Mini Buildings
a versatile range of secure small buildings, ideal for use as household stores, utility rooms, toilet blocks etc.
Available in five standard sizes, all with an eaves height of 2.134m (7' 0"), Mini Buildings can be constructed with the door located in any elevation and in multiple, mixed multiple and compartment format.
Small But Secure
Mini Buildings are constructed from 3" reinforced pre-cast concrete panels, which interlock, providing more security than an equivalent timber building. Panels are non-combustible and satisfy the structural integrity and flame penetration requirements of BS476 Part 1 1953 for half an hour.
Minimal Maintenance
Clever use of quality materials means our Mini Buildings will provide a lifetime of trouble free service, with virtually zero maintenace. A ready-primed galvanised steel door is supplied as standard, but a range of door and window options are available. Call us for details.
We reserve the right to change specifications without prior notice. A full up-to-date specification will be provided with your quotation.
Mini Building Specification (352kb)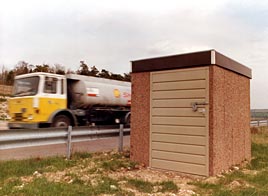 Mini Buildings provide secure, weatherproof storage for a variety of applications.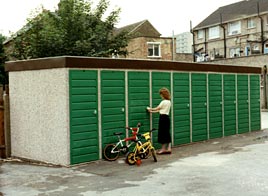 Mini Buildings can be erected in blocks for use as shared storage.